$27 Tuesday from Scarlett's Flowers in Bradenton, Florida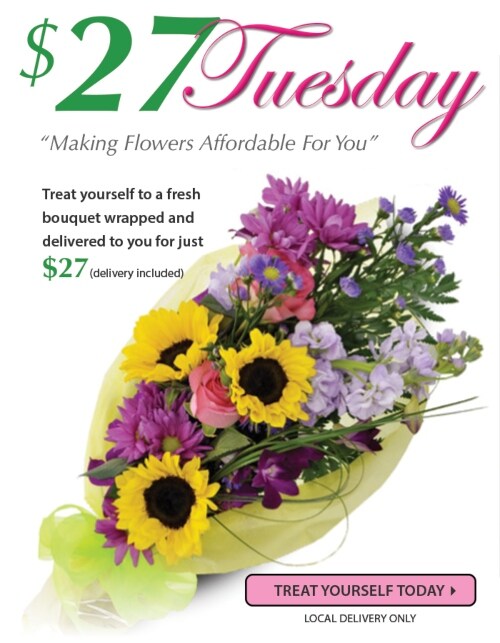 $27 Tuedsay from Scarlett's Flowers is a reminder that flowers are an affordable luxury in Bradenton, FL
You are at the right place, because on select Tuesdays throughout the year, Scarlett's Flowers offers a hand-picked bouquet of fresh seasonal blooms, wrapped and hand-delivered to your recipient. Yes that's right, in a world where Amazon, FedEx, and UPS dominate the idea of packages dropped at the door, your local florist makes sure your flowers are always hand-delivered directly to the recipient.
Be sure to: 1) check your email -and/or- 2) watch our Facebook page for this offer to appear.

If you are not subscribed to our mailing list for special offers, simply register your email address in the field below and click "Go!"
When we received our delivery of fresh cut flowers for the week and complete the processing of them, we like to thank our loyal customers (like you) with added value. Yes, that is just $27 worth of wrapped FRESH CUT FLOWERS, hand delivered to a local office or home in your area. It's that simple BUT, it is only announced on Mondays and only when additional product is received. We hope you enjoy your flowers and spread them around your home or office!
Flowers from Scarlett's Flowers & Gifts are the perfect gift for any occasion. From ordering for Birthdays to congratulating New Babies, to Roses and Anniversaries, or even Just Because. We offer a wide variety of Get Well bouquets to send as a symbol of hope for a speedy recovery.


We also specialize in custom sympathy flowers, as well as, weddings and other special events. Call us today. Same-day delivery in Bradenton, FL and surrounding areas or anywhere in the USA.